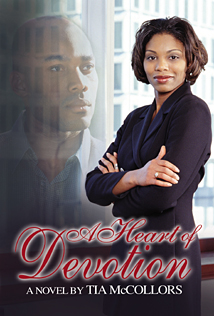 Heart of Devotion

Looking for a book to start off the New Year?
Well I have a good--holy--one. Tia McCollor's
Heart of Devotion
.
Synopsis:
In Bookstores January 1, 2005
A Heart of Devotion
ISBN: 0-8024-5913-7
Best friends Anisha Blake and Sherri Dawson have been inseparable for the last five years — until Anisha is swept away by Tyson Randall. When Anisha becomes the object of Tyson's affection, she believes her prayers for a knight in shining armor are answered. But as their romance grows, Anisha's intimate relationship with God becomes an afterthought instead of her first thought. With life crumbling around her, Anisha is faced with choices she was sure she'd never have to make. An inspiring and emotional journey through adversity and spiritual self-discovery.
"Tia McCollors skillfully tugs the heartstrings and delivers a moving read as she guides readers through layer by layer to a satisfying resolution in A Heart of Devotion. Her spiritual message illuminates God's hand in all situations."
-- Jacquelin Thomas, best-selling author of The Prodigal Husband and Soul Journey
My thoughts...
McCollors writes with elegance, grace, and a girl-next-door appeal. Anisha Blake is experiencing the Christian single dating blahs when she meets Tyson Randall, a man she hopes is the man she has prayed so long for. Ladies, we know this situation all too well.
Since
Heart of Devotion
is McCollors debut novel it would be nice for us to ask our local Books-A-Million or Barnes & Noble bookstores to have it on stock. This is a great Valentine's read for a Christian Fiction Book Club or an African American Women's Book Club.
You can learn more about Tia through me.
Ha Ha. Just joking(But yeah...really)
Learn more about her and how to schedule a book signing at
Tia's Site
, Amazon, or Moody Publishers.